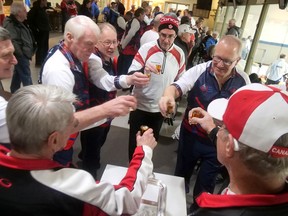 Perhaps the highlight of Tuesday's curling at the Simcoe Curling Club was the stacking of the brooms.
It's a tradition during the Strathcona Cup, which is played every five years alternating between Canada and Scotland since 1903, for curlers to take a short break midway through their eight-end games.
"Back in the day, outside, the brooms were always stacked like this," said Scottish second Ian Duffin, a member of the club council from the Broomhall Curling Club, which was founded by Victor Alexander, the 9th Earl of Elgin in 1880, in the Fife region, north of Edinburgh.
"You stack the brooms, halfway, come off the ice, and share a dram… it's as simple as that," said Duffin, who was playing on a team with skip Neil Murray, third James Young and lead Drew Paton. "It's a very Scottish tradition. A good single malt whisky."