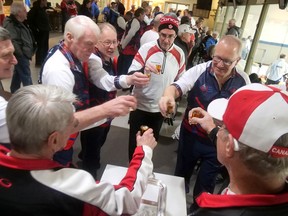 Perhaps the highlight of Tuesday's curling at the Simcoe Curling Club was the stacking of the brooms.
It's a tradition during the Strathcona Cup, which is played every five years alternating between Canada and Scotland since 1903, for curlers to take a short break midway through their eight-end games.
"Back in the day, outside, the brooms were always stacked like this," said Scottish second Ian Duffin, a member of the club council from the Broomhall Curling Club, which was founded by Victor Alexander, the 9th Earl of Elgin in 1880, in the Fife region, north of Edinburgh.
"You stack the brooms, halfway, come off the ice, and share a dram… it's as simple as that," said Duffin, who was playing on a team with skip Neil Murray, third James Young and lead Drew Paton. "It's a very Scottish tradition. A good single malt whisky."
The Broomhall club has been playing indoors since 1977 – outdoor games are rare in Scotland these days.
"That's an old tradition from the days of playing on the lochs in the cold outdoors," said Scottish skip Willie Paterson.
"A dram of whisky to warm you up," Paterson laughed. "That's a curling tradition. We wouldn't normally do that during a game, we'd just play through the eight ends and then come in for a drink."
Paterson remembers watching the 1967 World Curling Championships when it was known as the Scottish Cup.
"I was 17 and I got the bug because that," said Paterson. "The four Canadian guys out there with the flopping brooms, and ever since I watched that, I wanted to come to Canada. Being a farmer, it was too busy. Now I've got two daughters and they're running the farm for me (with a hired hand). A year ago, I said, 'If I go away for a month will you girls mind?' They said, 'Just go!' I've always wanted to do it. Now I get to see how it is in Canada."
The 72-year-old Paterson said he farms beef cattle and about 1,700 sheep, and grows barley and oats for seed. The lambing season is March-April, so he will be back home for that.
"It's busy," said Paterson, who during the winter months curls on average twice every week.
"I do the Scottish Seniors (50-and-older) and Scottish Masters (60-and-older) and enjoy that. I qualified for the (2023) Scottish Masters but it's played the Thursday-Friday (Feb. 2-3) and we don't get home until the Saturday."
The Strathcona Cup Scottish curlers playing in the Central Canada Tour arrived Jan. 11. They curled in Toronto, Fergus, Owen Sound, Port Elgin and Ilderton leading up to the Jan. 17 game at the Simcoe Curling Club. Only one game was played in Simcoe because the Scottish curlers had to be on a bus in the afternoon heading to Niagara Falls to see the Festival of Lights that night.
"We've had a ball, entertained every night," said Paterson. "There's been a couple of bands that've played, it's been great."
Paterson's team won their Tuesday match 10-8, giving them a 4-3 record, but Simcoe Curling Club's Canadian representatives won the other three games 12-1, 7-4 and 8-3. Aggregate scores from all east coast, west coast, and the central region tours (15 Scottish teams in total) are kept over the duration of the month-long tour and an overall winner is presented the Strathcona Cup in Februrary.
"There's 330 games in total," Paterson noted.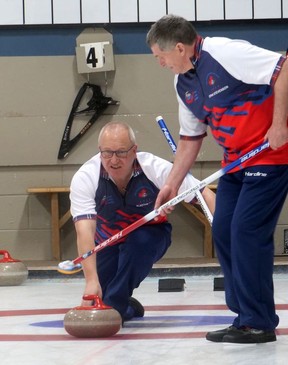 "We're actually not looking at it as individual teams," said Alastair Fyfe, a second on Paterson's team along with third John Stevenson and lead Iain Buchanan. "We're here as a unit and we're all trying our best… I'm starting to lose count, but I think we have won four, lost two or three?"
Fyfe said the best part of the tour, so far, has been the hospitality.
"Everywhere we've gone, it's been special, each in a different way," said Fyfe. "On the ice, you guys (Canadians) have given us really good games – we've tried our best – but off the ice everybody is friendly. We're all brothers in curling and probably distant cousins as well. You hear the banter and friendliness and the welcome, it's so special.
"I have been to over 50 countries around the world… and in Canada, you get the friendliest welcome. Curling is a sport where you try your hardest on the ice, and you socialize as well. The game is 50 per cent on the ice, 50 per cent off the ice, and that's the whole experience."
The Strathcona Cup road trip is a once-in-a-lifetime experience for the Scots, said Fyfe.
"It's a privilege to be selected. It's an age-old tradition and it's just lovely to be able to keep that tradition going. In five years time, Canadians will come back to Scotland and we'll do our best to give you guys a hard time on the ice, but a good time off the ice."
Rob Inglis, convener of Tuesday's curling in Simcoe, and skip of a Canadian team consisting of lead Mike Davis, second Mike Cobb and vice Derek Sutton, said it was good to come back after falling behind early, even if they eventually fell short 10-8.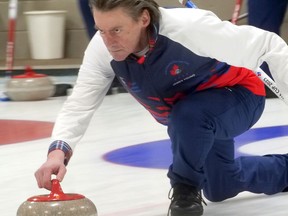 "We had a good chance to pull it off in the last end," said Inglis, who had helped his team's cause with a thinly-sliced double takeout on his first of two shots 'coming home' in the eighth end.
"It's a lot of fun. That's why I love this sport," said Inglis, "in the social afterwards, you can forget about the game."